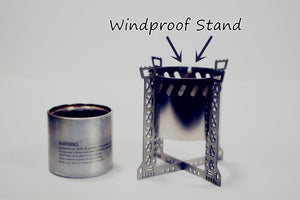 Windproof-Ring For Craft-53MM
We made the Windproof-Ring, which directs the airflow over the burner in a fixed direction. Windproof-Ring can consider both windproof and oxygen supply in a small space. In most cases, it will replace the huge windshield.
The Windproof-Ring splits the chaotic airflow above the burner into three parts. The burners get oxygen in the lower and middle levels and ultimately leave all the hot gas flowing to the bottom of the pot.
If you plan to purchase the Windproof-Ring separately, please make sure your stand is compatible.
We recommend seeking a resting place or using "
the huge windshield"
 if the wind is too strong.
---