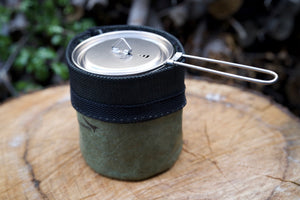 The Titanium Kettle 750ML New Version
EDDY-200 & EDDY-205 & EDDY-206, all sets containing kettle have been updated to version 2.0
We discontinued the original style kettle and updated it.
The new kettle retains the long handle. The handle rotates horizontally for deployment and storage.

The handle is not removable and cannot be lost. Turn the handle to lock the lid.

The lid can be hung from the body to avoid getting dirty during use.
All parts are made of titanium -- New surface treatment technology, anti-fingerprint.
Comes with insulated storage bag made of Tyvek®.
---