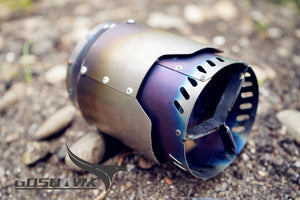 Goshawk Titanium Wood-gas Stove Atomic EDDY-206 NEW!!!
Atomic EDDY-206
Titanium Wood-gas Stove
Atomic is a professional wood-gas Stove stove.
It can still be folded into the kettle. Atomic's expansion is very simple. It consists of only two parts. The upper part integrates folding stands and stuffing holes. The lower part is the double-walled combustion chamber.
The upper part is stored in the double-walled mezzanine.
The fully expanded "Atomic" has an excellent combustion chamber and side holes for adding firewood.
The weight of Atomic is 162g.
Folded 90mm x 100mm.
Unfolded 90mm x 170mm.
EDDY-200 is named "Pioneer".
The first public test of "Pioneer Pro" and "Atomic" has begun.
We expect them to be listed at the same time as Era!
---