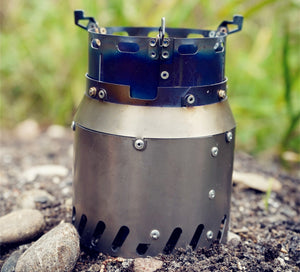 Goshawk Titanium Multi-fuel Stove Pioneer Pro EDDY-205 NEW!!!
Pioneer Pro EDDY-205
Titanium Multi-fuel Stove
Unfold the stand to burn alcohol. Resist weather changes.

In this configuration, the burner gets air circulation at the bottom.
And provide oxygen for the alcohol stove, regardless of wind and rain.
After raising the burner, the second oxygen supply system will be released. Become Wood Gasifier

The secondary oxygen supply holes inside the burner are released, and the top ventilation system is exposed simultaneously. In this configuration, the burner will provide a strong guarantee for the complete combustion of the wood.
EDDY-200 is named "Pioneer".
The first public test of "Pioneer Pro" and "Atomic" has begun.
We expect them to be listed at the same time as Era!
The weight of Pioneer Pro is 135g.
Folded 90mm x 100mm.
Unfolded 90mm x 130mm.
---