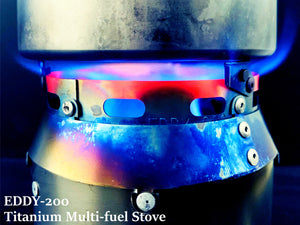 Goshawk Titanium Cooking system EDDY-200 NEW!!!
Wood Gasifier Stove --- EDDY-200
The breakthrough in the use environment and the ultra-lightweight make it possible to use wood stoves when hiking. This unstoppable will further reduce the weight of the fuel you carry.
When the burner uses as a wood stove, it is a secondary combustion Wood Gasifier Cooker with multiple oxygen supply.
As the smallest and lightest Wood Gasifier Cooker, it can thoroughly burn wood until white ashes remain.
The double-layer structure allows the flame to be fully supplied with oxygen while keeping it away from wind and rain.
Titanium kettle - 750 ml

Product features

Titanium -- strong and light.

Strong lid - won't slip off easily.

Folding handles - won't be lost.
Ounce & Militer - Clear scale across the handle.
Long Handle - Keep your hand away from the flames.

Diversion opening - easy to separate noodle soup and pour water.
Contain:
Titanium Multi-fuel Stove
Contain:
Titanium Multi-fuel Stove
Titanium siphon alcohol burner
Contain:
Titanium Multi-fuel Stove
Titanium kettle 750ML
Multi-Fuel Stove Cooking System
Contain:
Titanium Multi-fuel Stove
Titanium siphon alcohol burner
Titanium kettle 750ML
---