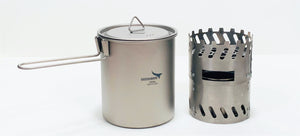 Goshawk Titanium Cooking system EDDY-101 NEW!!!
30% discount for the first 100 sets. Do not hesitate to contact us, please.
We have continuously optimized the flame channel and produced the Turbo Burner System (TBS).
The TBS incorporates high-power Siphon Burner and achieves the best balance between oxygen supply and wind protection in a limited space.
After the TBS is fully activated, a large amount of air will be drawn from below. The air drives the flame to spray from above in a vortex. 
This allows it to boil water quickly and resist climate change.
Receive easily inside Titanium Kettle.
Titanium kettle - 750 ml

Product features

Titanium -- strong and light.

Strong lid - won't slip off easily.

Folding handles - won't be lost.
Ounce & Militer - Clear scale across the handle.
Long Handle - Keep your hand away from the flames.
Diversion opening - easy to separate noodle soup and pour water.
---