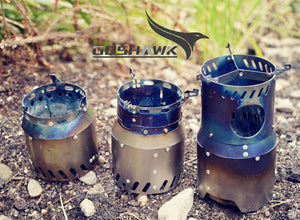 Titanium Multi-fuel Stove adds new members!
"Pioneer" EDDY-200 is a classic ultra-light multi-fuel burner.
It has been revised several times and is still the best choice for alcohol fuel.
But if you prefer to burn wood.
"Pioneer Pro" EDDY-205 is heavier and more powerful. Its wood-gas stove part has been strengthened.
But if you only like to burn wood...
"Atomic" EDDY-206 is a professional wood-gas stove.
The fully expanded "Atomic" has an excellent combustion chamber and holes for adding firewood.
What's impressive is that all of them can be stored in a 750ml kettle!
EDDY-200 is named "Pioneer".
The first public test of "Pioneer Pro" and "Atomic" has begun.
We expect them to be listed at the same time as Era!
---
1 comment