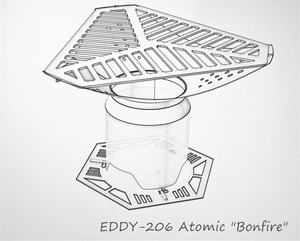 New accessory production plan for EDDY-205 and EDDY-206
Titanium Multi-fuel Burner EDDY-205 Pioneer Pro is developed from EDDY-200 Pioneer.
The Pioneer Pro burns firewood better thanks to its variable height.
Maybe we can do something to make it work better.
For example, continue to grow taller?


This accessory can make the Pioneer Pro even taller.
It is made of titanium and titanium alloys and has an excellent strength-to-weight ratio.
Well, to make sense of what we do. They still fit into a 750ml titanium kettle!
About the Titanium Wood-gas Stove EDDY-206 Atomic "Bonfire".
Titanium Wood-gas Stove EDDY-206 Atomic is designed to boil water and cook food for 1 to 2 people while hiking.
And it can be folded into a 750ml titanium kettle.
The EDDY-205 Pioneer Pro can also do the above things. We think Atomic can do more unique things.
We developed Bonfire accessories for it. This includes Reinforced Base, Fireplace and Grills Prior. All parts are made of titanium.
We can burn wood more comfortably in exchange for warmth.
When the wood has turned into coals, place Grills Prior.
This plate will serve hot food for 1 or 2 people.
We will conduct in-group testing after making samples.
All of this is expected to be completed in May.
Thank you very much for your attention!
---
2 comments