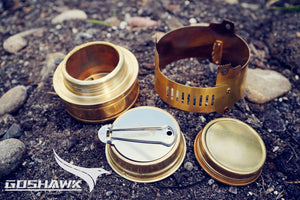 It looks ordinary, but with magic!
We try to incorporate various artistic styles into the burner.
The burner we made is beautiful. Um, At least they have distinct characteristics.

Everyone loves Era burners. It has excellent power, great texture and a well-thought-out design. But at the same time, it also uses the best materials and the most time-consuming processing methods.
The era has consumed a lot of our energy and workforce. It must be successful as a burner, but this will not be everyone's choice.

We put aside the pursuit of being a burner enthusiast and tried to find the user's voice from the origin. 
Something utilitarian.
What do we care most about?

Reliable stands
Easy to carry
Windproof
Boil and simmer
Seal the remaining alcohol
Economy
Brass Siphon Alcohol Burner
Windproof Stand
Simmering Ring
Seal cover
Storage bag 
---
2 comments