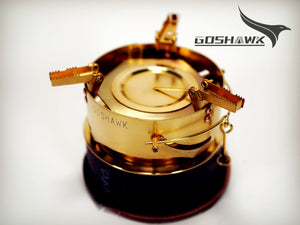 Flame controllable burner EDDY-502 "Babylon"
"Babylon" is a flame-controllable burner.

The stove is made of brass. The eight copper tubes inside can ensure that the combustion efficiency of the burner is at its peak.

You only need to pull the joystick. "Babylon" can be switched between boiling and simmering.

The burner has a sealing cover. Can store surplus fuel.

Optional Thermal insulation holster.
---
3 comments